Planning on creating the perfect wedding? Setting the theme for your big day is incredibly important, so sift through the latest colour and style trends of 2018 with a little help from Viners, and create the wedding of your dreams.
Ultra violet.  Brides seem to be moving away from traditional peach and cream hues, to look for something more striking. Darker, textured details will make a big impact this year.
Pictured: Style 16-Piece Cutlery Set RRP £55
Greenery and gold.  Botanicals are super stylish at the moment. We're moving away from the 'rustic' feel and choosing a more 'woodsy' aesthetic. Green will be the colour theme of choice, with wooden touches to the décor.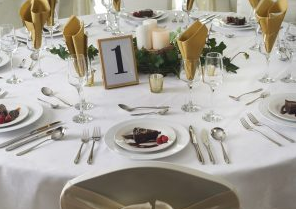 Pictured: Eden 16-Piece Cutlery Set RRP £55
Navy is the new black.  Dark and navy blue are growing in popularity. Midnight blue invitations will become the alternative to the classic black and white invite, and may influence the choice of bridesmaid dresses.
Pictured: Style 16-Piece Cutlery Set RRP £55
Blush pink geometrics. Copper and rose gold are making a mark in the wedding world. It's a fantastic way for couples to accent their industrial and minimalist weddings. Blush pink is set to bloom this year.
Pictured: Mayfair 16-Piece Cutlery Set RRP £56
Traditional silver and chrome. The timeless colour palette matches perfectly with white or cream, and considered a classic wedding combinations.
Pictured: Eden 16-Piece Cutlery Set RRP £55